The key to hotel content marketing is blogging. As much as our blogging efforts can go a long way, you need to find a way to get other bloggers to write about your hotel. This could skyrocket your popularity. All you have to do is find a way to attract more bloggers to our hotel.
Today, the success of any business relies deeply on its digital marketing strategy. The way we present our business to our online audience reflects on how profitable we are. The same goes for hotels that are trying to attract more people into becoming their guests. Content marketing is super-important for making your hotel a more desirable location for all kinds of tourists and guests.
We'll break it down together. Here's what you can do to get more bloggers to stay in your hotel and write about it.
1.       Find a Shared Target Audience
Before approaching a blogger, you need to make sure you've got all the information you need. Travel bloggers and influencers won't be willing to collaborate with you unless you have a shared target audience.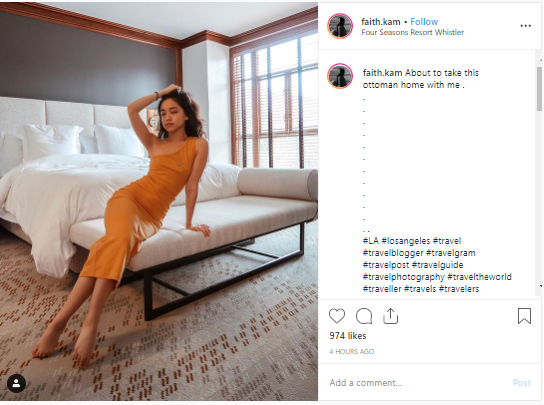 Therefore, make sure you analyze your target audience in terms of:
age
sex
location
education
online behavior
Then, find those bloggers and influencers who have the same target audience and let them know why your hotel would be a great choice for them and those who read their content.
source: Instagram
2.       Show Your Uniqueness
You have to keep in mind that travel bloggers have an audience they need to satisfy. This means that they won't cover just any hotel.
They're looking for something unique and special that their audience will find entertaining, inspiring, and fun.
That's why you have to show whatever makes you special:
the specific interior design of your rooms
the location in a desirable part of the city
things your hotel has to offer
If there's something worth their visit, they'll come to stay at your hotel.
3.       Create a Strong Social Media Presence
If you want the best travel bloggers to be interested in staying at your hotel, you have to have a strong social media strategy.
Social media is one of the most powerful and influential marketing tools of the 21st century. You have to join thousands of businesses promoting themselves online and create business profiles on social media such as Facebook, Instagram, and Twitter.
This will help you:
raise brand awareness
showcase the best video and photo materials of your hotel
post user-generated content
advertise your special offers
get more people to hear about you
get the attention of the best travel bloggers
Before agreeing to come to stay at your hotel and cover it in their next blog post, every blogger is going to check your social media.
Make sure you've got it covered and they have plenty of quality and attractive content to see.
4.       Approach Them Professionally
Next, you have to consider a specific way of approaching the travel bloggers and influencers that you want to stay at your hotel.
The easiest way would be to send them a DM on Instagram and ask them to come to visit you. But is this the most professional way?
If you want to let them know you're a professional and your hotel is not just any random location, here's what you should do:
send them a professionally written email, explaining why you wish they'd stay at your hotel
tell them what you're offering
leave them your phone number and invite them to give you a call
This professional approach will let them know you're worth the phone call and they'll be more likely to say yes.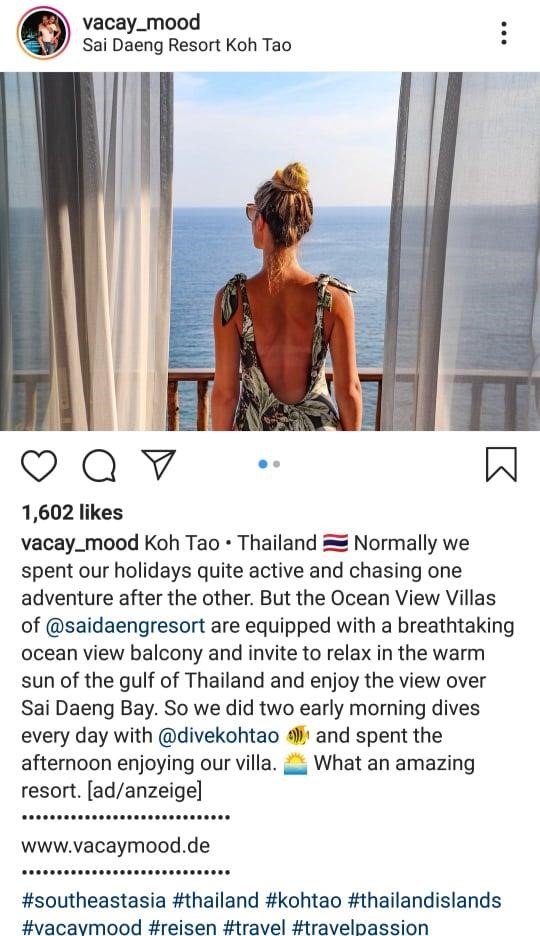 source: Instagram
5.       Keep an Intact Online Presence
Finally, there's one last thing you have to think about when it comes to attracting more bloggers to your hotel. Your overall online presence needs to be intact.
Here's what that implies:
attention-grabbing website
professionally written content
appealing visuals
In case you need help with content writing, here's a list of resources that could come in handy:
Top Essay Writing– This online writing service allows you to upload your content and wait for them to revise it. You'll receive an improved, polished version of your work.
Grammarly– When you finish writing, you need to proofread. This online tool will do all the work for you. Just follow the highlighted parts of your text and accept change suggestions.
Classy Essay-When you need a hand to help you with any topic, you can turn to this service's team of professional writers.
Be Graded– If you need a more human touch to revise your content before publishing, send it to this online writing service and they'll help you out.
Hemingway App– This is another great online tool for proofreading that will help you make your content more accurate and readable.
Subjecto– Sometimes editing is the hardest part of the writing process. If you need help in this department, send your work to this online service and they'll handle it for you.
Make sure all segments of your online presence are impeccable. It will contribute to getting more bloggers to your hotel.
Final Thoughts
To attract the best travel bloggers, you have to take care of your hotel branding. Strong social media presence and quality visual materials will make things much better. Combine it with a professional approach and you'll win yourself a great deal.
Use the advice above to create your strategy for attracting more bloggers to your hotel. You'll see it is worth the effort.
---
Subscribe
Join the newsletter to get the latest updates.
---