The hotel booking engine is a tool that allows you to take direct bookings 24 hours a day, seven days a week. Booking engine software offers a seamless flow to accept booking of customers through the hotelier's websites or through the third party websites. It should offer you complete control over your rates, inventory, room types, pricing methods & extra services or amenities. You need to be able to get detailed reports (calendar of your customers check-ins and check-outs as well as you need to be able to see all your bookings in single page) and your costumers needs to have multiple payment options. Messages to customers and to the hotel needs to be sent automatically when reservation is made, cancelled or changed.
Booking Engine speeds up your selling and raise your profits, while allowing travellers making quicker and easier reservations directly from hotel's website. Convert visitors into bookers, save time and money, avoid infinite calls and e-mails.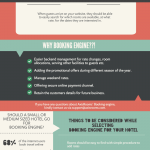 ---
Subscribe
Join the newsletter to get the latest updates.
---