Tourism is just one of the numerous industries affected by the appearance and development of Artificial Intelligence. AI has found its way to all sectors and departments of different industries and is changing the way things are functioning these days. For tourism, AI has brought innovation, progress, and positive changes. The question is, which trends are taking over the travel industry in 2020?
If you're curious to hear what to expect in this field in 2020, just keep reading. We've made a list of AI trends for tourism that everyone should embrace in 2020, and make the most use of it. Let's break it down together.
1.       Travel Assistant
People online want to get things done fast and without any issues. The same goes for travelers who are trying to organize their next trip.
In the old days, you'd go to a travel agency to book your next trip or browse different websites until you've found what you need.
Today, things are way different.
Travelers today don't have the time or the patience to sit in front of their computer all day, looking for information necessary for organizing their trip. They need a smart assistant who can do it all for them.
Although chatbots are already a major part of the travel industry, it's expected that the need for their assistance will increase in 2020. Here's what they can help travelers with:
searching for the cheapest offers
booking flights
answering baggage related questions
booking hotels
giving guidance on the go
finding the nearest rent a car
exploring different travel options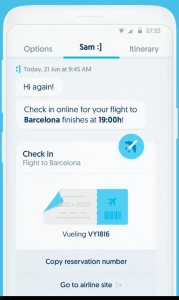 source: Google Play
These smart virtual assistants can answer questions instantly, and remove the waiting period for the human customer service agent to respond.
More and more hospitality leaders are integrating AI chatbots with messaging applications such as Facebook Messenger, Slack, or Skype.
In 2020, if you want to stay competitive, you'll have to consider building a chatbot to help your customers find what they need.
2.       Recommendation Algorithms
Personalization and personalized recommendations are a must in 2020. Just like Netflix will recommend the next TV show to watch based on your previous searches, so can you create a personalized travel experience.
Every person who visits your travel platform uses your app, or visits your website, leaves a footprint. It's your task to use this footprint to retain those customers and make sure they come back for more.
This is exactly why in 2020, you need to invest in building a recommendation algorithm that will be able to:
give recommendations for the next trip
estimate your budget and create offers accordingly
offer you a one-day detour on your current trip
give you advice on when to book your flight
offer you a car rental near your accommodation
When you create unique offers for specific customers, you increase your chances of retaining them. You'll give them great ideas and help them make the right decision.
This is something that the tourism industry needs to embrace without thinking.
3.       Loyalty Programs
You can never disregard the power of the loyalty program for the travel industry. Its importance only continues to grow and in 2020 it will play a significant role in the way your customer sees you.
Travel agencies, hotels, and other travel industry companies are using stored data to find out which customers are worth retaining. Then they invest special effort into creating unique offers for them.
The loyalty program includes:
sending emails with special offers
discounts
complementary sales opportunities
offering a better check-in experience
giving out gift certificates
Based on your previous experience with a customer, you can tailor a special offer for them. This will help you avoid abandonment by that customer and make them a loyal and happy customer.
Make your loyal customers feel appreciated in 2020. If you don't do it, someone else will.
4.       Augmented Reality
Augmented Reality is a phenomenon you have to make use of if you're in the travel industry. Let's dig a bit deeper to see why this trend will take over the way we travel in 2020.
Augmented Reality (AR) is a digital technology that is used to change the way we perceive things around us. Naturally, we have to use a device to look through it.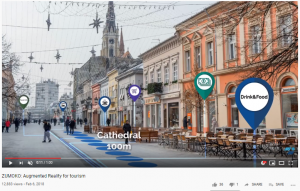 source: YouTube
In the travel industry, this is creating endless options for hospitality leaders, hotel chains, and popular destinations.
With the use of AR, you can provide service such as these:
provide useful information to travelers before they arrive
make your hotel more attractive
provide valuable information 24/7
help them learn about a landmark within seconds
send vouchers, maps, or menus to customers based on their location
There are endless options you can make use of for your hotel or travel destination.
Augmented Reality will continue to grow in 2020 so try embracing your trend as soon as possible.
Additional Info
When you're building a chatbot or using AI to enhance your customer services, you have to pay attention to the process of building it. Your chatbot must write accurately and professionally.
Here's a list of useful writing tools and services that can help you:
Write Scout– This service can proofread your text and send it back mistakes free.
Grammarly – This tool is best for proofreading and editing your work yourself. Just paste the document and remove the highlighted mistakes.
Is Accurate– When you need someone to edit your work, this service is the best one to go to. Their team of professional writers will handle it for you.
Hemingway App – This tool will help you improve the structure, accuracy, and style of your written text.
Classy Essay  and Studyker – When you're out of ideas and need someone to write for you, you can turn to this service.
Final Thoughts
Artificial Intelligence is making serious changes in the way we travel. From the moment a traveler thinks of a potential destination, to the moment they pack their bags to head back home, AI can make their whole experience better.
The trends above have already emerged but will blow up in 2020. If you're still not using any of these, it's time you start working on it.
---
Subscribe
Join the newsletter to get the latest updates.
---