In the past few months we have launched whole lot of new and exciting features for AxisRooms Channel Manager, which will help hoteliers in managing their properties with ease and get more out of it.
We are listing the new features below-
Master Report
Introducing the master report- Master report contains all the bookings information and which is specially designed for channel manager bookings. It will show Booking Engine bookings as well but the property should connected in our channel manager as OTA Axisrooms.
Search By Booking Id
Top search bar allows you to search the bookings by OTA reference id/ Booking id.
Date Selection
By default the current date is selected. The calendar contains sub fields like (Today, Yesterday, This week, This Month, Last Month, Custom Range). Based on user choice can able to select the date range.
Search Filters
Following fields are mandatory to get the required details
Hotel – Lists the corresponding hotels list active under that particular supplier in Select Hotel drop down.
Channel – It contains list of all OTA's which is supported by Axisrooms.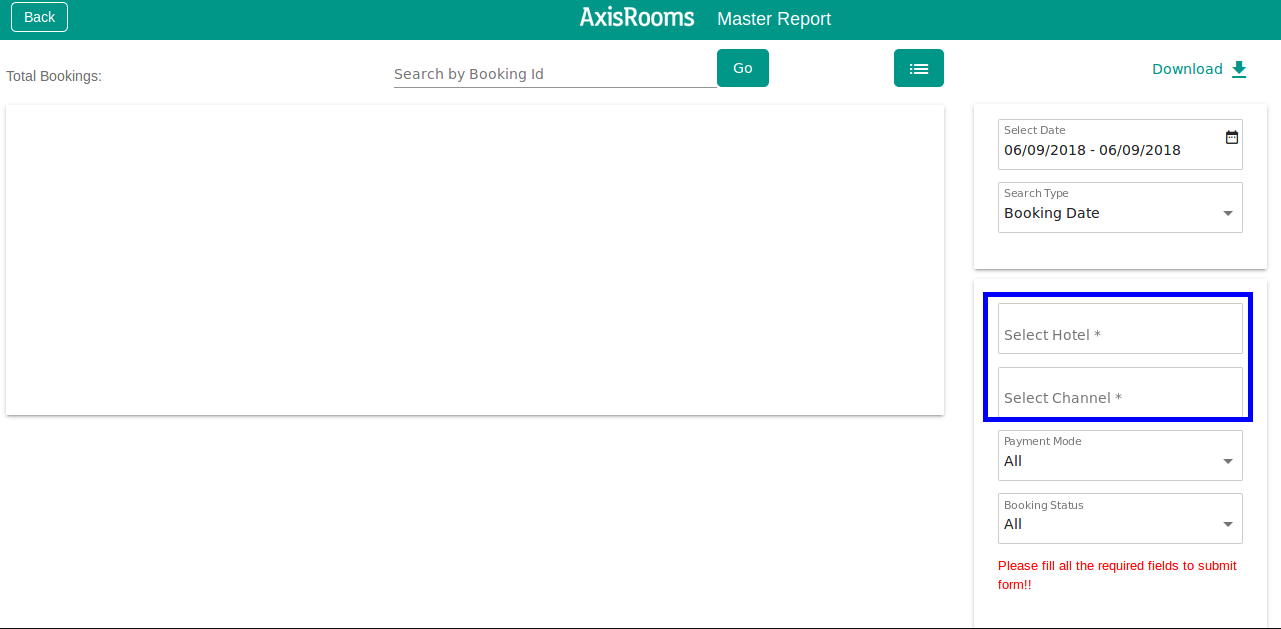 After successful selection of all required fields ,the submit button will appear once click on that will get required booking information on the dashboard.
Available Fields
The report consists default and custom fields which is placed on right side (indicated as below picture)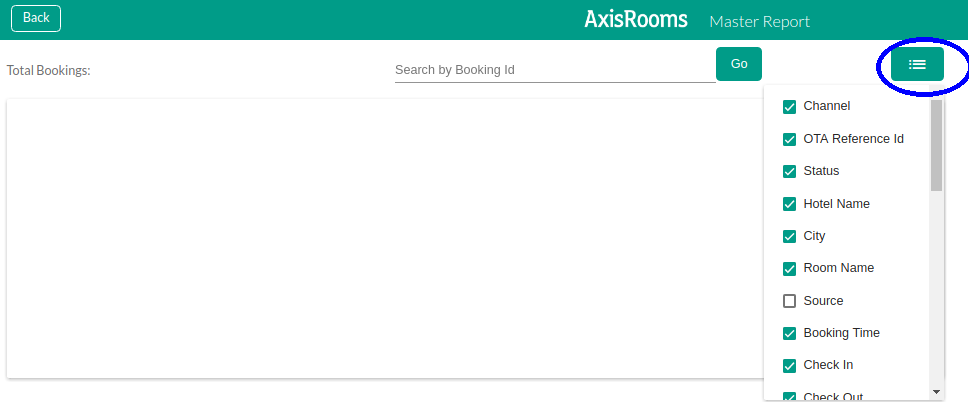 The fields are (Channel, OTA Reference ID, Status, Hotel Name, City, Room Name, Booking Time, Check In, Check Out, No.of rooms, Mode of Payment, Total Amount). These will display by default for every booking information in the dashboard. There are additional fields also present.
Pivot View in Master Report
The pivot view in master report allows you to visualise the report data in the format that you like. We have created some standard presets which can help you with some quick analysis. Currently there are 4 presets, which you can toggle.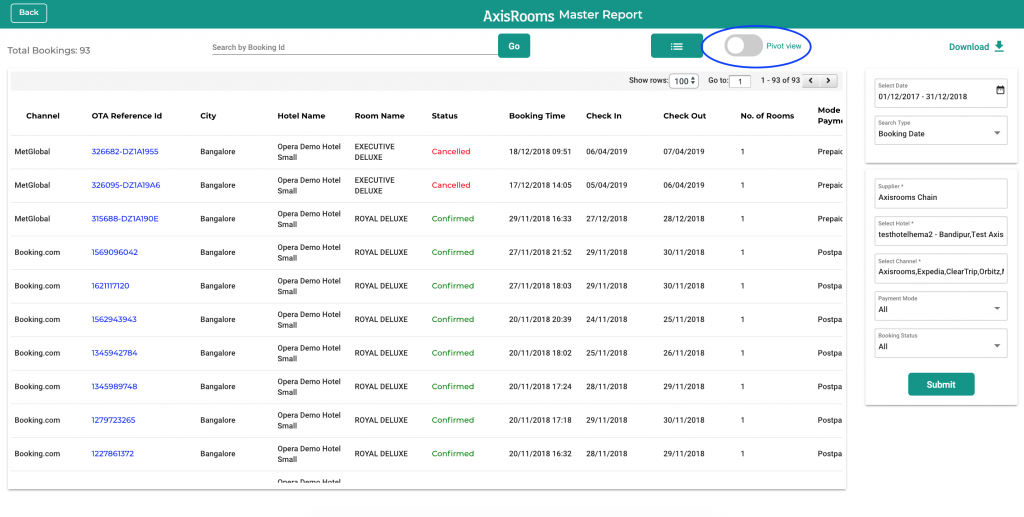 Use presets – Preset showing default view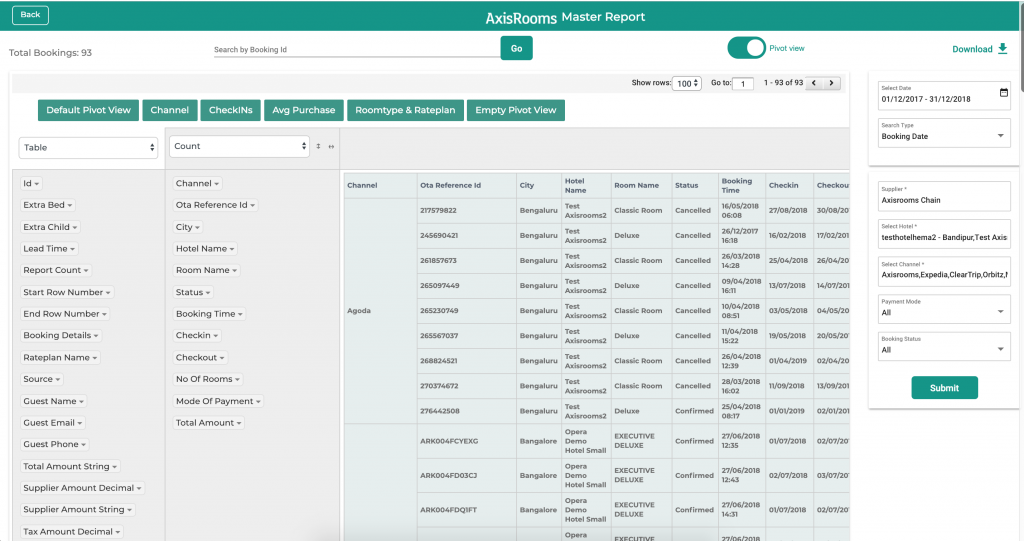 Use Presets – Preset showing average lead time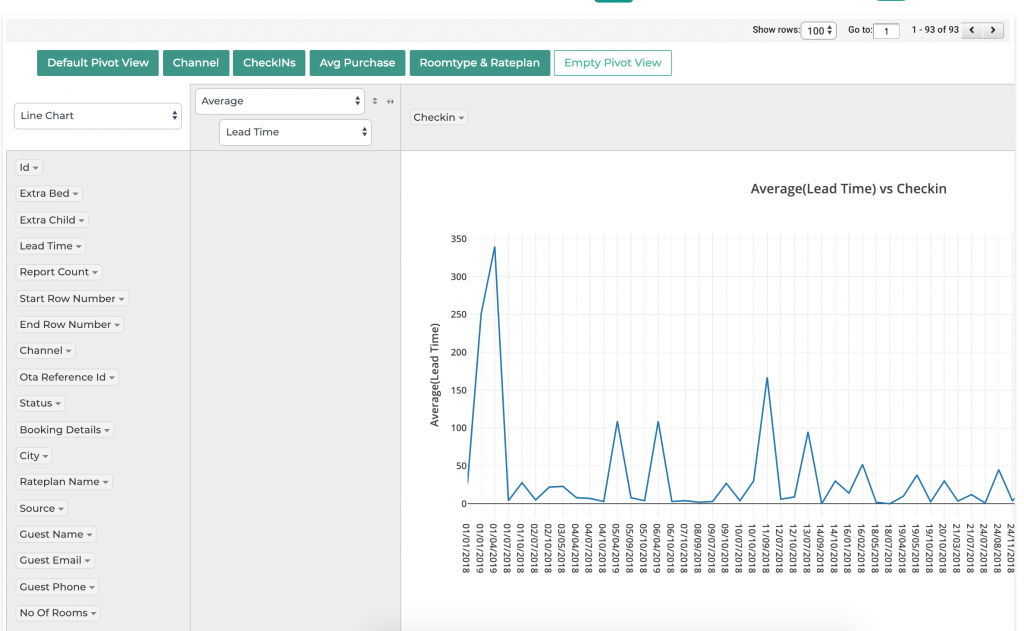 Drag and drop additional columns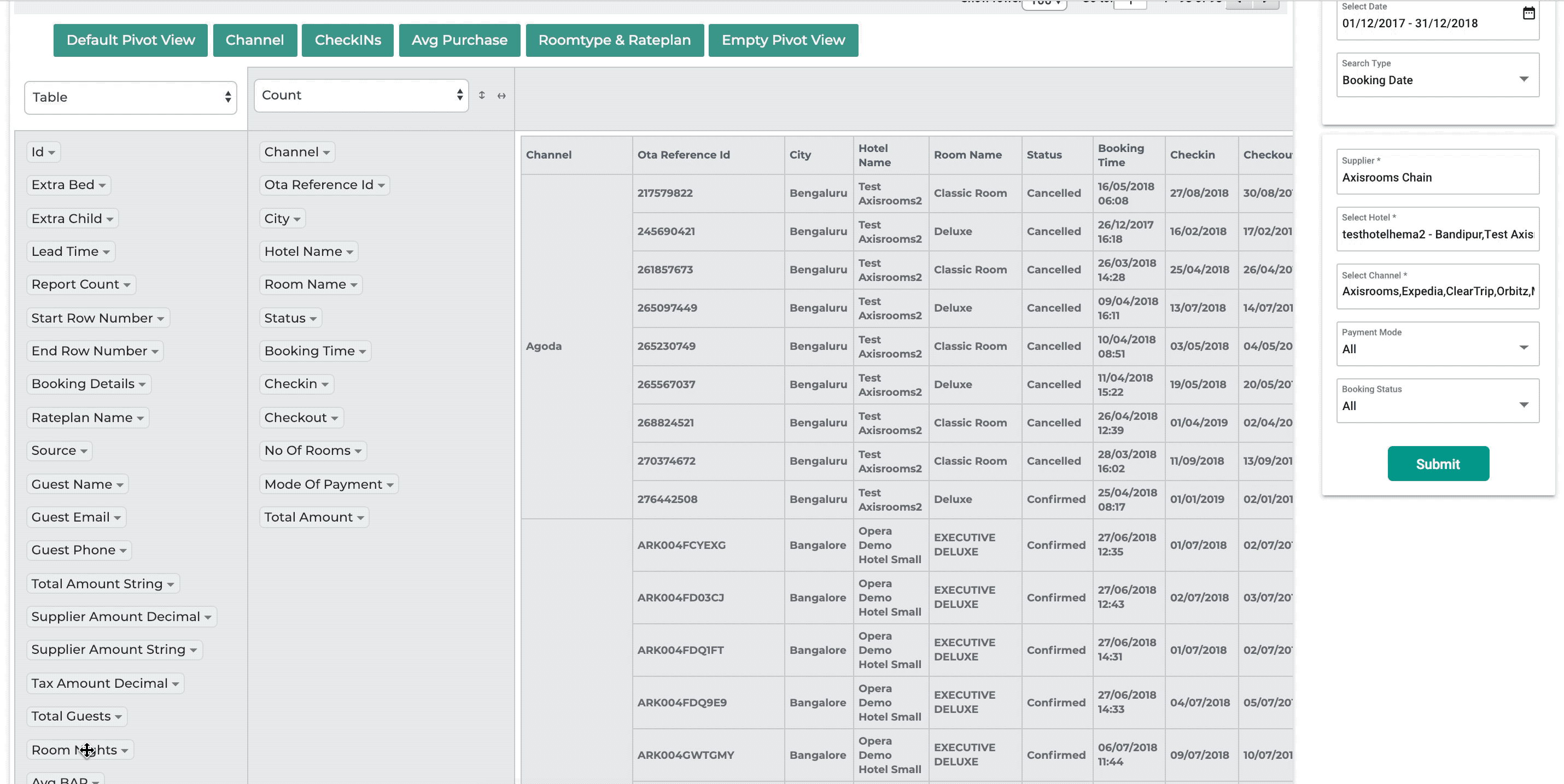 Filter the data you would like to see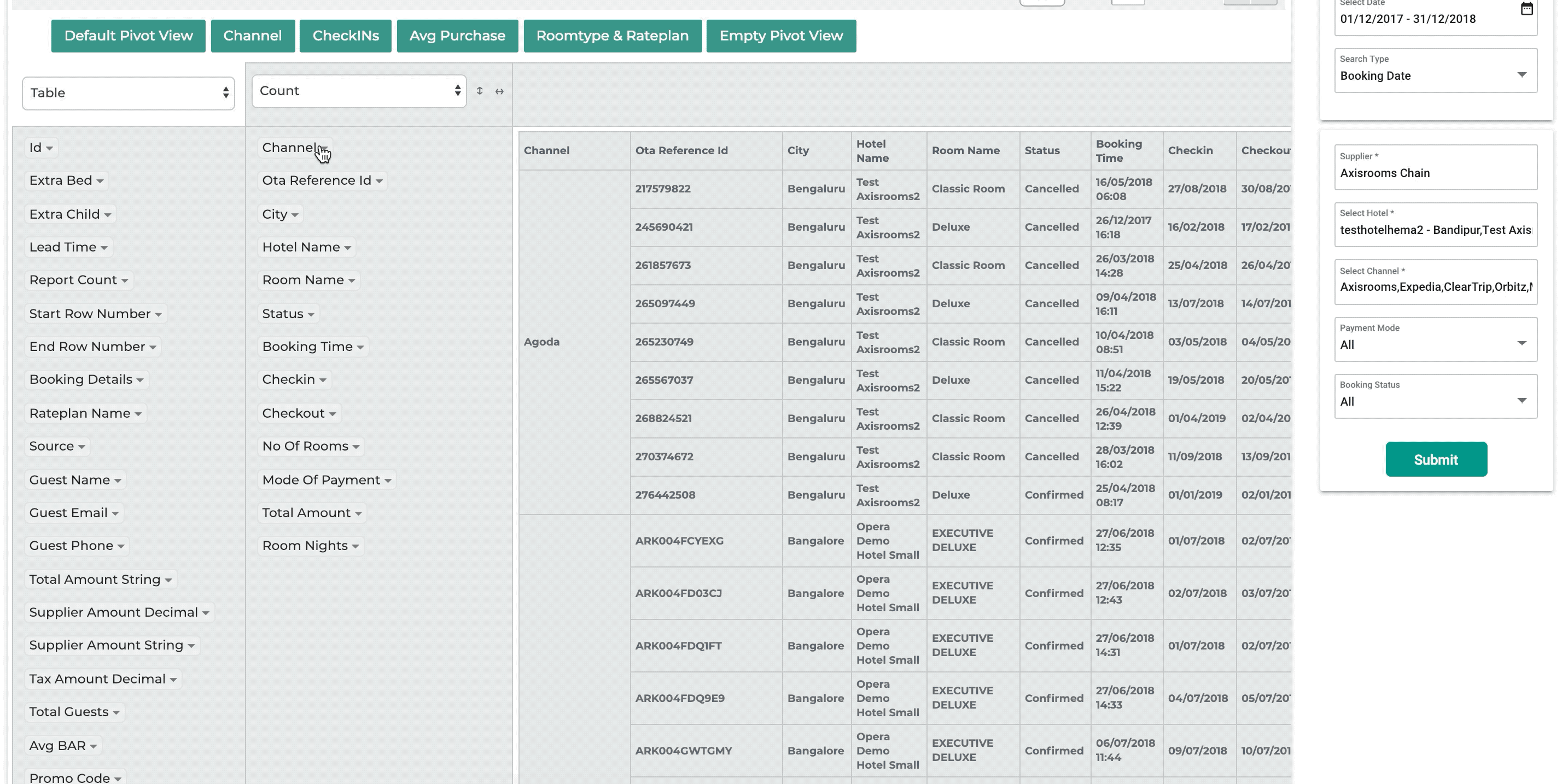 Push Notifications
Push Notifications is to notify the user (Support,Supplier,Supplier Admin) about-
Confirmed Bookings
Modified Bookings
Cancelled Bookings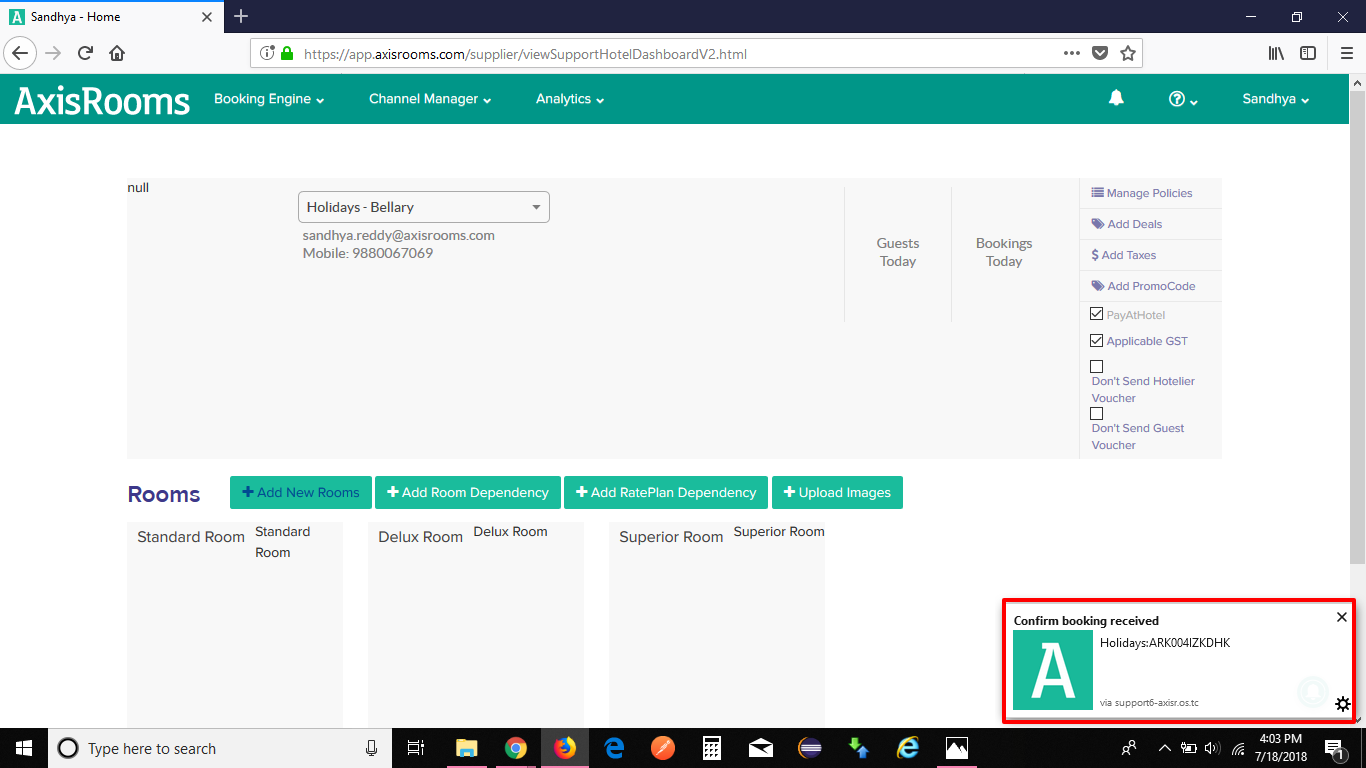 Messaging for Airbnb
If you are connected to the Airbnb channel, you can communicate with guests right from the channel manager.
The link to the messaging interface is available under profile. The link will only appear if any of your properties are connected with Airbnb.

We are constantly working towards a great experience for our customers. We are open to suggestions, if you have any suggestions do leave it in the comment box below.
---
Subscribe
Join the newsletter to get the latest updates.
---